The word "modular" itself sounds modern meaning that it consists of different modules (or units) that can be connected together. So basically, a modular kitchen is a set of modules combined together to achieve the aesthetics and functionality of your kitchen.
Although traditional kitchens may seem spacious and user-friendly, these kitchens don't have the potential of a modular kitchen. The biggest disadvantage of traditional kitchens is that they were open, which is not a priority in modern kitchens.
Modular kitchens are known for their aesthetics, clean & refined appearance. The concept of traditional kitchens has been defeated as more and more people move to urban areas, live in apartment buildings, where kitchen space is a challenge and every corner of the kitchen must be used to make the kitchen free and beautiful.
As more people moving to cities, demand for modular units is increasing and the production cost is decreasing. Many factories and designers offer the design and manufacture of modular kitchens, so the competition has intensified and the quality and innovation are developing rapidly. Thus, modular kitchens are not limited to high-end bungalows or luxury apartments, but a common demand that has become essential due to modern needs and lifestyles.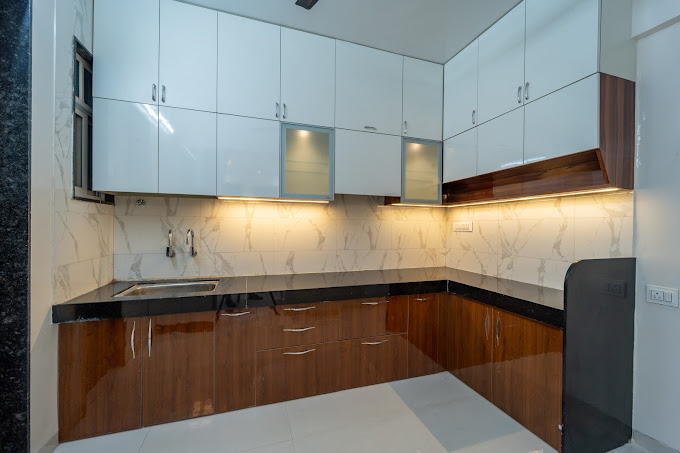 Well, if you're still confused and haven't invested in a modular kitchen yet, here are 5 reasons why you should
Stylish and modern look
The first and most important reason to choose a modular kitchen is to give your kitchen a trendy, modern and stylish look. Today, the kitchen is the second most attractive place after the living room. You can design and customize a modular kitchen for your home that you've only seen in magazines, YouTube or Pinterest.
The appearance of modular kitchens is always attractive because they are custom made and designed according to the purpose of use, function and kitchen equipment and technology.
Modular kitchens look appealing and eye-catching thanks to their finish, elegant design, and wide range of colours. Check out our modular kitchen services here.
A modern interior requires a personalized approach. Every piece of furniture in your house needs customization and remodeling. With a modular kitchen, you can freely change your kitchen and reinstall it elsewhere with certain modifications.
Apartment kitchens are small and there are many narrow spaces that cannot be covered with ready-made furniture. However, with modular kitchens, every corner of your kitchen can be used as storage, so a custom approach is always better.
Many of the modules in your kitchen, whether they are storage cabinets, trolleys, overheads can be adjusted according to your space so that your kitchen becomes user-friendly and fully functional, yet aesthetic.
Clutter-free and easy to maintain
The last thing you want is to have a messy kitchen with all the storage units open and the appliances all over the kitchen platform. A modular kitchen offers a clean look with modules that are easy to maintain.
Since the kitchens are designed taking into account the dimensions of kitchen appliances such as refrigerator, mixers, oven, toaster, etc. they look so that the kitchen looks the perfect size and does not have large gaps, just like a custom suit that fits your perfectly.
Drawers and all crockery are stored inside the modules, so there is less maintenance to store expensive crockeries in your crockery unit. You can also flaunt your crockery with fluted/tinted glass units which are always clean and attractive with the modular kitchen range.
With the kitchen chimney option, you can now say goodbye to the huge mess of oily grease and dust in your traditional kitchens.
With a compact space, storage space is always an issue for the home-makers. If you do not have adequate storage space in your kitchen, kitchen counters are used which can make your kitchen look awkward and messy.
With modular kitchens, you have a customised solution for every storage space and have modules that can be installed in a small space. Thanks to the smart organizers, you can put all your storage in a small space with everything handy for you.
Corners of traditional kitchens are always unused. These problems are easily solved with carousel units with pivot, V-shaped corners and magic corners which make excellent use of the limited corner space in the kitchen.
So make the most of every inch of your modular kitchen with pullouts, tall units, pantry organizers and more.
Yes, it may seem surprising given the myth that modular kitchens are a high-end product and very expensive.
Modular kitchens are factory made, so they are produced on a mass-scale daily. With mass-production of these units, they are economical in terms of the quality of finish and workmanship you get.
Because they are assembled in workshops, installation and labor costs are also lower compared to on-site carpentry work.
In addition, modular kitchens are durable and maintenance-free which which saves on operating costs. With modules, each piece of furniture can be repaired and maintained separately, and there is no need to remove all pieces of furniture. Thus, modular kitchen is economical in the first stage and also in the long run.
Modular kitchens are in high demand across the construction industry and are well worth the investment.
The demand for modular kitchens and the popularity of modern houses are increasing day by day. So what are you waiting for?
We are just a phone call away, contact us and we are ready to design a custom modular kitchen solution for you. We offer one of the best modular kitchens in Pune!